With the meat shortage making it more challenging to plan meals around beef, pork, and chicken, pescatarian and vegetarian recipes will help see us through on Meatless Monday and beyond!  Click to skip to the recipe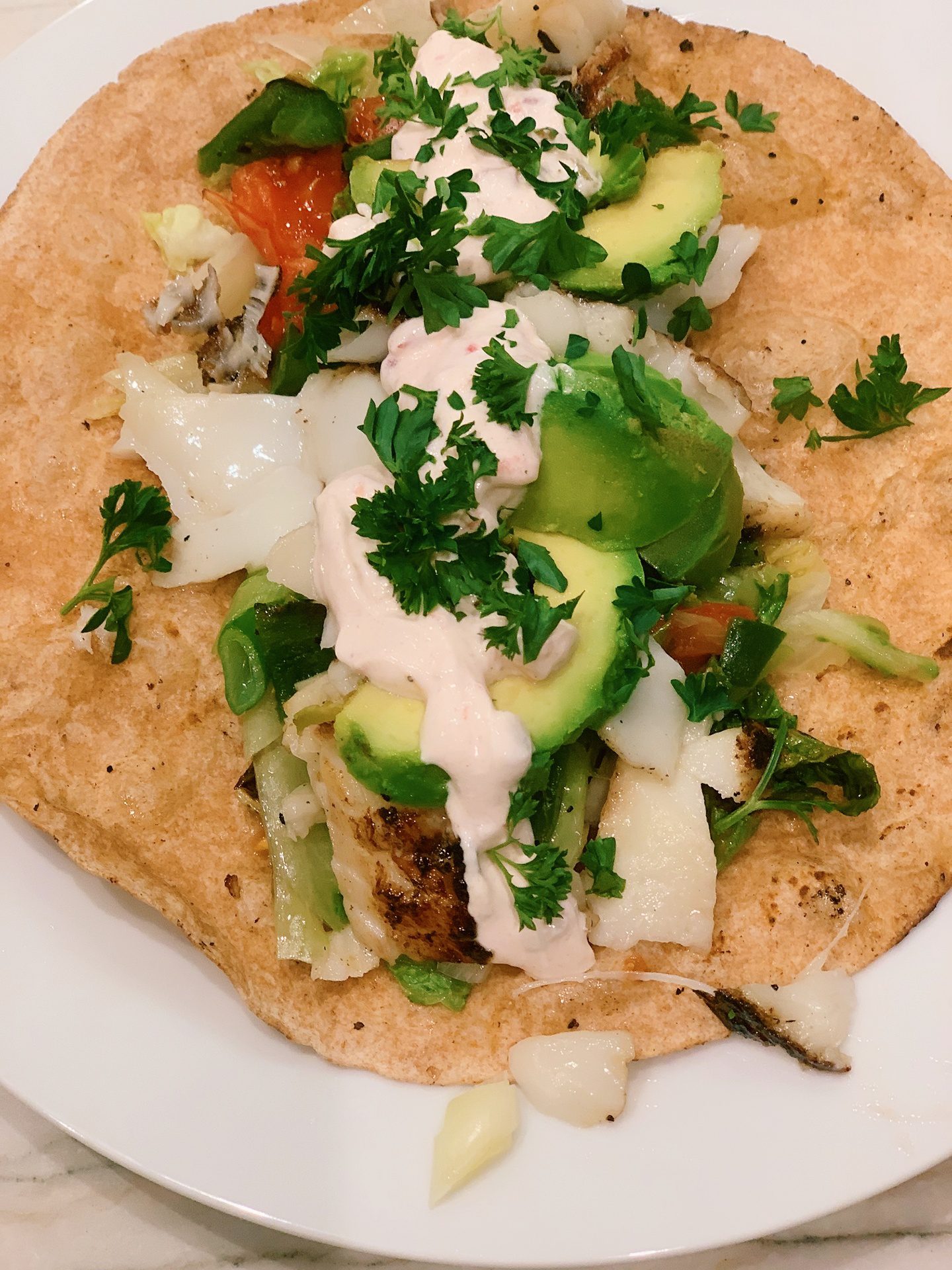 With a nod towards Meatless Mondays, on the heels of Cinco de Mayo, and with heartfelt concern for our meat supply chain, I decided to make a pescatarian recipe for dinner this week: Fish Tacos! In a word they were delicious and in a second word… this dish is thought-provoking!
We live in a beef crazed society. Meat and poultry are the menu planner's mantra. Wendy's made national news this week when they ran short of meat for their Triple-Decker cheeseburger. This led to protests and calls for, "Where's the beef?!"
This could spark a whole new movement in preparing satisfying pescatarian and vegetarian recipes that will appease our need for meat and potatoes.
Since we've been staying at home, our consumption of fast food burgers has declined precipitously. Hubby's down more than a few pounds in just a couple of weeks!
His recent bloodwork showed a definite improvement from past years and it got me thinking: Could this upturn in his health have something to do with fast-food distancing?
If this is my new working theory, in how many weekly meals can I substitute fish or veggies for beef, pork, or chicken? With the meat shortage increasing steadily and meat, pork, and chicken being rationed in grocery stores around the country, finding meat alternatives in the midst of the shortage is my new challenge.
I think this might be a prudent time to visit no meat main courses, which is why I started with fish. This recipe is based on my Grilled Guac recipe from my cookbook, "Sunday Best Dishes". That recipe grills all the veggies before you mush them into guac. 
I used that same technique to grill everything from the fish to the lettuce for these tacos and the grilling gave a smokey, lusty taste to the tacos. I used a grill pan indoors and the whole meal took about a millisecond to prepare.
No ground beef, pork, or chicken required to make a satisfying meal!
You can easily share your meatless main meals with all the readers here. We're all into experimentation these days!
Grilled Fish Tacos
Serves:
Time:
2
30-Minute Cuisine
Ingredients
I made these for hubby and me, and two large, open-face tacos were plenty. You can adjust the recipe to feed more, by just increasing the ingredients. I found blood oranges at the market and prepared the marinade with this juice, but good old lemons or limes will do just fine.
For filling:
2 (6 to 8-ounce) sea bass fillets (substitute with and white, flaky fish)
1 blood orange (substitute with lime or lemon)
4 large garlic cloves, peeled and minced, about 3 tablespoons
¼ cup olive oil
1 teaspoon kosher salt
½ teaspoon coarse black pepper
For sauce:
¼ cup mayonnaise
¼ cup sour cream
¼ cup prepared salsa
Juice of ½ lime, about 1 tablespoon (reserve the other half for seasoning the taco)
2 to 4 dashes hot pepper sauce
For tacos:
1 avocado, cut in half, pit removed
1 tomato, cut in half
½ romaine lettuce head
1 to 2 jalapeno peppers, cut in half, seeded, and deveined
2 green onions
2 (8 or 10-inch tortillas)
2 tablespoons chopped fresh cilantro
Place the fish into a dish. Squeeze the juice from the blood orange over the fish. Add the garlic and olive oil. Season with some of the salt and pepper. Turn the fillets in the marinade to coat and let sit for 15 to 20 minutes.
Stir together the mayonnaise, sour cream, salsa, lime juice, and as much hot pepper sauce as you like. Season with salt and pepper.
Heat a grill pan over medium-high heat. Drizzle some additional olive oil onto the pan. Place the fish, flesh side down onto the grill pan. Place the avocado, cut side down onto the grill pan. Do the same with the tomato, lettuce, jalapenos, and green onion.
Grill the veggies, turning once just until you get a nice char on each piece. Season with salt and pepper. Transfer the veggies to a cutting board.
Grill the fish, turning once until it is nicely marked on both sides and cooked to medium-rare in the center. This will take a total of about 8 minutes per inch of thickness of the fillets.
Transfer the fish to your cutting board. Place the tortillas onto the grill pan and grill for several seconds, turn and grill for several seconds more. The tortilla should be warm and pliable. Transfer each tortilla to a plate.
Chop the lettuce. Place half of the lettuce onto each tortilla. Cut the fish into chunks and place on top of the lettuce. Do the same with the tomato, avocado, jalapeno, and onions. Top the taco with a generous dollop of sauce. Garnish with cilantro and an extra squeeze of lime juice.